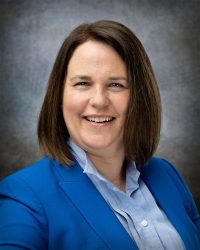 The Rapid City Public School Foundation is excited to welcome Kara Flynn as its new Executive Director. Flynn succeeds long-time Executive Director Laura Sobczak, who led the organization from 2012 through 2017 and again from 2018 through 2022.
Flynn is a public education advocate who hopes to more meaningfully engage Rapid City to support Rapid City Area Schools. She served as a volunteer Board Member of the RCPS Foundation from 2014 until 2017, when she took over as the executive director. After leaving the Foundation in 2018, she served as a School Board Representative for RCAS Area 3, was volunteer co-chair for the RCAS Bond Vote Yes Campaign, and served as Black Hills area co-chair for the South Dakota Public Broadcasting's $14 million Sound Vision Campaign. She currently serves as a member of the RCAS Strategic Planning Taskforce and on the boards of the Friends of SDPB, Children's Home Society Foundation and Black Hills Community Theatre.
All of Kara's prior roles have helped give her an inside look into areas of need within RCAS, and she is excited to use her skillset to help the Foundation create a long-range vision to meet its mission and goals.
"I believe in the power of public education to create community and to change lives," said Flynn. "Dynamic, community supported schools give all children a chance to reach their potential. Quality schools are needed to recruit qualified professionals to the area and to meet the demands of expected growth due to the Ellsworth Air Force Base expansion."
"Although we are sad to say goodbye to Laura Sobczak, who has been an integral part of the Foundation as both a volunteer and an employee for over a decade, we are excited to welcome back Kara Flynn as our Executive Director," said Sandy Carlson, President of the Board. "Kara's varied experiences within RCAS and our community give her a unique experience and vision; we are excited to see her put her ideas into action to support area students, teachers, and their classrooms."
Flynn was born and raised in Sioux Falls and moved to Rapid City in 2004. She and her husband Leo have two sons, one who is a 2021 graduate of Stevens High School and one who is a current student at Stevens High. She holds a Bachelor's degree from the University of Wisconsin and a Master's degree from South Dakota State University. Flynn can be reached at Kara.Flynn@k12.sd.us.
Founded in 1994 with an endowment, the Foundation seeks public and private donations to support its mission to enhance and enrich the educational experience of students, to recognize and inspire those who guide student learning, and to increase community support for preK-12 public education.