100 Years of Rapid City Public Schools- A Community Project
Celebrate Rapid City's School Buildings! The history of the Rapid City Public Schools spans nearly 150 years, but the oldest in-use building will turn 100 this year. In it's honor, there will be a two part celebration: a Centennial Celebration for the eastern most portion of the current Rapid City High School Building on October 8th and a celebration of all Rapid City Area School Buildings on February 10th, 2024.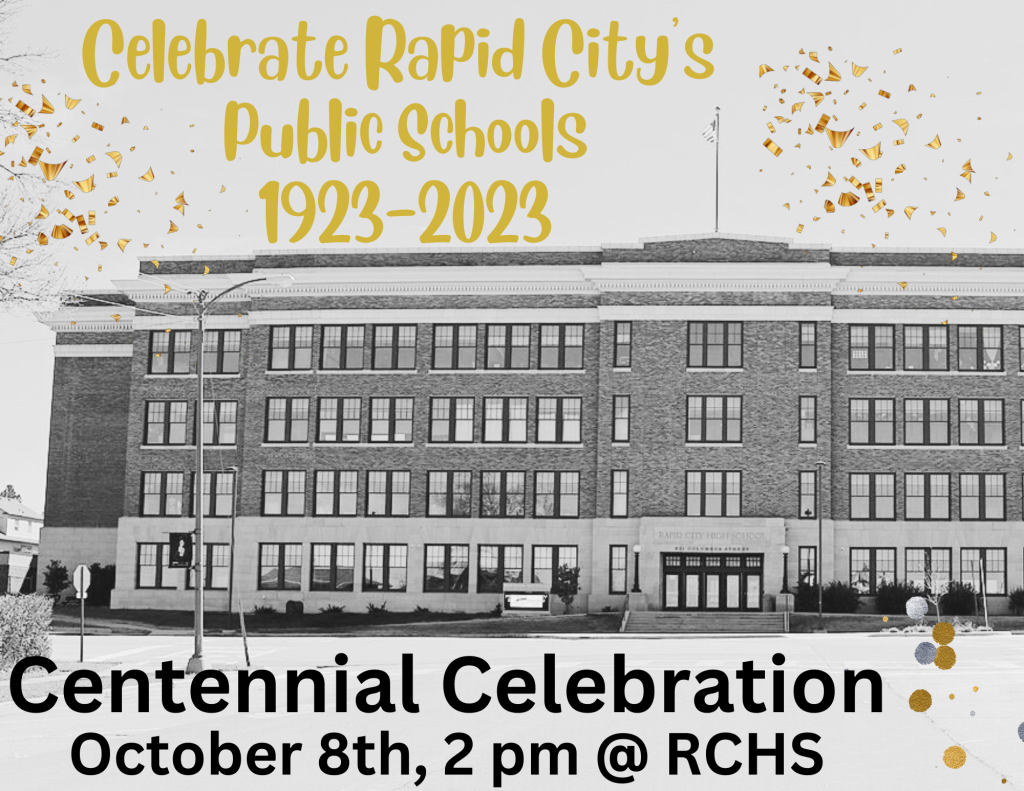 ---
Community Partners & Contacts:
Rapid City Public School Foundation – Kara Flynn (Executive Director)
Rapid City Education Association – Stephanie Hunter (President)
Citywide PTA – Charity Day (Co-President)
Historic Rapid City – Jean Kessloff (President)
The Youth Institute – David Lock & Josh Egbert (Director & Assistant Director)
---
Share a Story
Share your school memories. Please click on the link below to share.
https://forms.gle/6qQ9tksHcvDCsfYEA
---
Celebrating School Buildings
On February 10th, 2024 a film festival featuring all public school buildings in Rapid City will be presented at the Historic Theater at Rapid City High School. Each film will be approximately 5 minutes in length and feature history of each specific building. Many films will be put together by students!
---
Donate
Want to support the project? We estimate about $18,500 worth of expenses from a timeline on the floor, to advertising and signage about the history of each school. Any amount is greatly appreciated. You can donate by:
a. Check Payable to: RCPSF c/o Black Hills Area Community Foundation
PO Box 231, Rapid City, SD 57709 ~Be sure to write 100 Year Celebration in the Memo.
b. Online credit card: https://bit.ly/RCPSFoundation In honor of: 100 Year Celebration
Contact Sarah Gross at 605-484-2492 or Forest Cooper at 605-399-8509 with any questions.